Goblin Town's NFT beta marketplace launches
The Idea Trader is dedicated to spreading interesting ideas and current news to readers and interested parties. This blog contains opinions and insights for ideas and investment opportunities and is not intended as advice for investing.
The beta edition of Truth Labs Marketplace, a non-fungible token (NFT) marketplace, has successfully opened. Truth Labs is the company behind the well-known NFT collection Goblin Town.
Truth Labs announced the beta launch of its Truth Labs NFT marketplace in a blog post on September 22. Only a 5% royalty marketplace fee will be charged for NFT transactions in the new NFT marketplace.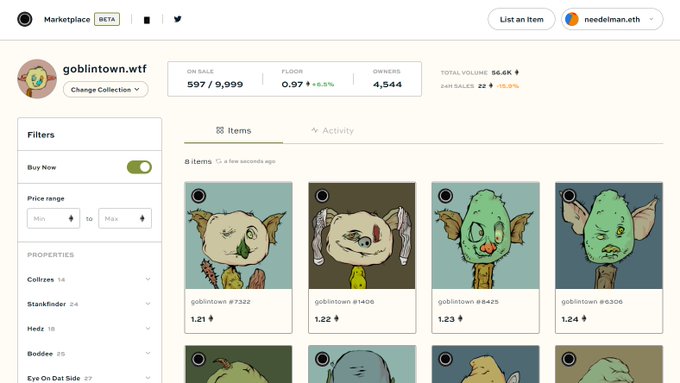 Overview of Truth Labs
A blockchain-based web3 company called Truth Labs is well known for producing well-liked NFT collections including the eccentric Illuminati, The 187, and the illegible Goblin Town NFT collections.
The online company gained notoriety this year as a result of their NFT collection's June rally, which occurred in spite of the broader crypto market collapse, which caused several NFTs to lose more than 70% of their floor pricing.
The price of the Goblin Town NFT collection, which debuted in late May, soared from its starting point of 0.5 ETH to 2.5 ETH a few weeks later by more than 500%.
NFT Marketplace at Truth Labs
For the introduction of its upgraded NFT marketplace, Truth Labs has partnered with white-label NFT marketplace Snag Solution. With cheaper royalties, the company hopes to facilitate the secondary sale of NFTs from its collection.
The goal of the new market is to solve the problem of exorbitant fees on well-known NFT platforms. The best example in this situation is OpenSea, which charges a 2.5% marketplace fee on each transaction.
Creators may get royalties ranging from 2.5 to 10% thanks to OpenSea. All transactions on the Truth Labs' NFT marketplace will be subject to a 5% royalty marketplace fee.
Truth Labs will also implement stricter procedures for reporting stolen digital collectibles in order to better integrate the principles of web3 and decentralized technologies, in addition to lowering royalty costs.
Thanks to Dominic Kimani at Business 2 Community whose reporting provided the original basis for this story.