Tennessee Whiskey Jack Daniels Files NFT & Metaverse Patents
The Idea Trader is dedicated to spreading interesting ideas and current news to readers and interested parties. This blog contains opinions and insights for ideas and investment opportunities and is not intended as advice for investing.
Non-fungible token and metaverse markets are testing mainstream acceptance following a market drop this year, drawing institutions, investors, and brands. "Jack Daniels" is the newest corporation interested in NFT and metaverse.
The Metaverse Welcomes Jack Daniels
A trademark attorney verified in a September 19 blog post that Jack Daniels registered for three trademarks for metaverse and NFTs on September 13.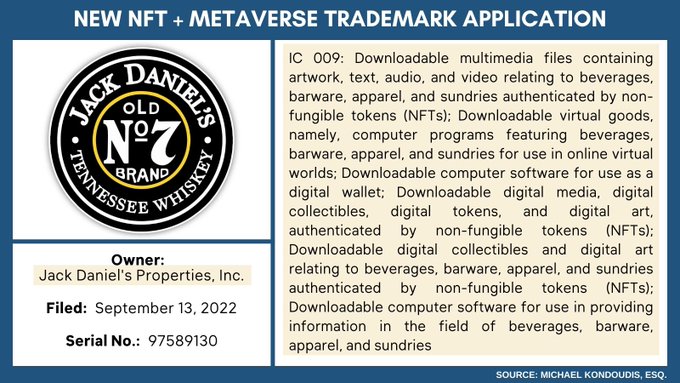 Kondoudis claims that Jack Daniels plans to offer NFT-authenticated material, which may include audio, video, artwork, and texts that are connected to alcoholic drinks, bar supplies, and clothes. The trademark will also apply to digital downloads.
Additionally, the business has submitted a trademark application for software that can be downloaded and might serve as a digital wallet for Jack Daniel's and information about drinks.
Other Companies Looking Into the Metaverse
Jack Daniels has recently joined a number of illustrious businesses and brands that have already submitted trademark applications with the USPTO for different reasons relating to the metaverse and NFT.
Luxury apparel company Hermes submitted its trademark application for a variety of virtual assets earlier this month, including currencies, markets for virtual products, virtual clothes, fashion shows, and non-fungible tokens (NFTs).
A trademark application for music, podcast creation, artist management, marketing services, distribution, promotion, advertising, online entertainment, and audiovisual records was also submitted by Sony Music Entertainment on August 30.
Additionally, Miley Cyrus, a singer and actress, filed her name as a trademark with the USPTO for NFT and the metaverse. Cyrus plans to provide virtual beverages, apparel, entertainment, and software for managing currencies.
Other well-known alcoholic beverage companies have already entered the metaverse. Recent ideal examples are Tiger Beer, Heineken, and Absolut Vodka, which debuted its Coachella-themed metaverse.
Related
Thanks to Dominic Kimani at Business 2 Community whose reporting provided the original basis for this story.